Weddings in Intimate Elegance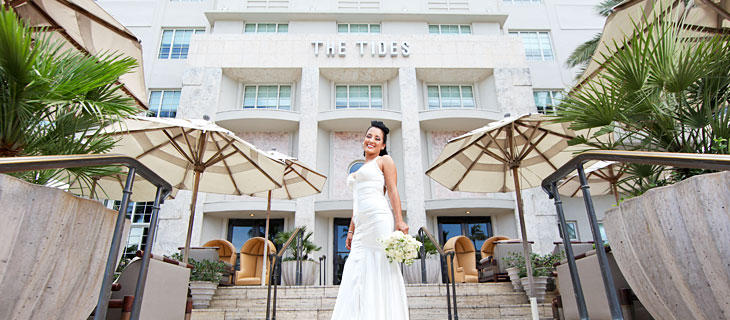 Where better than "The Diva of Ocean Drive" to celebrate your special day? At The Tides South Beach, we specialize in intimate destination weddings for up to 60 guests. Whether you envision a small ceremony and dinner on the Tides Rooftop Terrace (accompanied by panoramic 360-degree views of Miami Beach) or a poolside reception with butler-passed hors d'oeuvres, we promise an event of unrivaled elegance.
Our experienced wedding planner and The Tides' culinary team will work together to create a delicious and memorable menu featuring signature dishes including Filet Mignon & Crab Cake Duo, Miso Glazed Black Grouper and Key Lime Pie.
The Tides is happy to offer accommodations for the wedding party and guests at a special discounted wedding rates.
Wedding and Event Space Capacity Chart
| Wedding/Event Space | Square Feet | Banquet | Reception |
| --- | --- | --- | --- |
| Tides Restaurant (Indoor) | 1,100 Sq. Ft. | 59 Guests | 100 Guests |
| Front Terrace (Outdoor) | 1,600 Sq. Ft. | 70 Guests (Separate with 35 on each terrace) | 150 Guests |
| Coral Bar | 300 Sq. Ft. | 12 Guests | 30 Guests |
| The Tides Suite | 2,000 Sq. Ft. | 22 Guests | 50 Guests |
Great location. The staff here was amazing an every room is a suite. My wife and I loved the beach and the food choices were endless along the beach.

- Joe P

Our room was huge, for a South Beach art deco hotel. Beautiful furniture, great linen choice, and a breathtaking view. The bathrooms were excellent and very nice amenities.

- Travelover13NY

We stayed 2 nights at the Tides in South Beach and absolutely loved it. Spacious rooms with walk in wardrobes, modern bathroom, and a living room area.

- Denise H

I have been going to South Beach for years and recently stayed at The Tides hotel. If you are looking for modern, clean rooms at reasonable rates this is the place for you.

- Jerome612

We stayed at this hotel for 2 days and it was amazing. The staff were all very accommodating and friendly. There is not one bad thing I can say about this hotel.

- 65Winnipeg
Newsletter Sign Up
Tides South Beach is an iconic hotel located on Ocean Drive, just steps from the crystal water