Timeless Style On Ocean Drive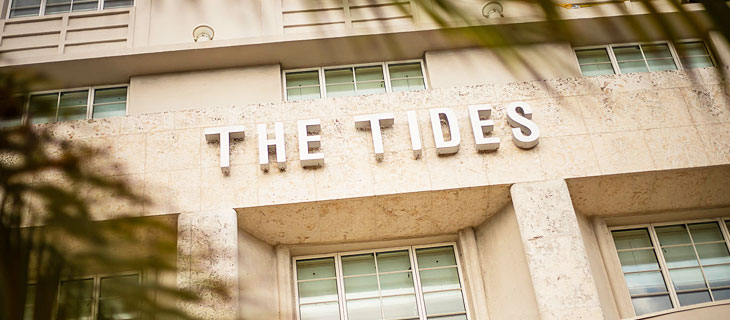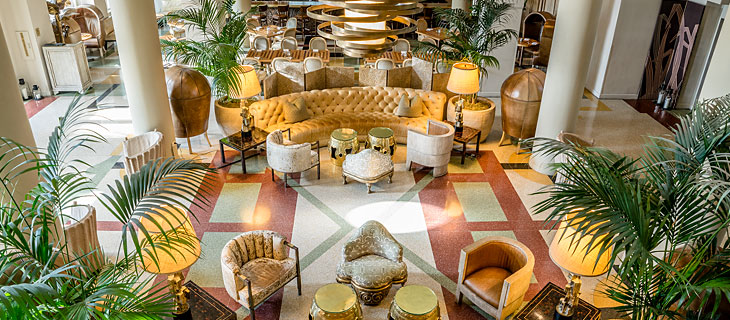 Located in the heart of South Beach, The Tides has long captivated A-listers and affluent Miami Beach visitors with its 1930s-era Art Deco style and collection of 45 stunning and ultra-spacious guest rooms and suites, each with interiors designed by Kelly Wearstler and guaranteed views of the Atlantic Ocean's blue-hued beauty. Widely known as "The Diva of Ocean Drive," this opulent hotel is located just steps from the world-class dining, shopping and entertainment that have made South Beach one of the world's most dynamic and sought-after destinations.

With its high ceilings, huge windows and expansive outdoor terrace, The Tides exudes Old World Miami Beach elegance while enveloping guests in modern-day comfort and sophistication. Its collection of thoughtful services and amenities include everything from complimentary WiFi and a welcome cocktail – the hotel's signature Tides Royale – to complimentary beach set-up each day.

Three Penthouse Suites recall a bygone era of glamour, with stunning private outdoor terraces affording spectacular views of the Atlantic Ocean and bustling Ocean Drive. Whether you're heading to South Beach for a romantic getaway, a wedding, meeting, or one of the countless events that dot Miami Beach's annual calendar, allow "the Diva of Ocean Drive" to be your Miami home away from home.
Defined by history
Our story began nearly 80 years ago, when prominent Miami architect L. Murray Dixon built The Tides in 1936. His first Art Deco hotel in South Beach, it quickly earned rave reviews for its asymmetrical design and striking decorative detailing, including an entrance divided into three sections, recessed from the main façade and punctuated by large porthole windows. It was, briefly, the tallest building in Miami Beach.
Location wins hands down for this hotel. It is located right on Ocean Drive! The rooms are very good in size. We were impressed with the Ocean views and interconnected rooms. The breakfast in the mornings were superb, with great views outside the main hotel entrance. The hotel did seem quiet during our stay. The hotel staff were very helpful and accommodating! Loved the hotel!

- Bimal20

I just came back from a week in The Tides. It was amazing! The staf was very helpful, the room is beautiful, the view is amazing! We enjoyed the beach service, with complimentary chairs, umbrella and towels. Great place for couples!

- EricaQT

The Tides is in a perfect location. The rooms are huge, the service is fantastic and the view from the rooms is amazing. Bathrooms and closets are also nice and huge. They offer chairs to seat by the beach. I would definitely recommend it to a friend.

- Leo79t

Great location! The building's grocery store has everything you need and It's a life savior most of the times! Security 24/7, super nice and welcoming staff. All the areas are very clean and the apartments are fully packed with most utensils you could possibly need! Would definitely recommend it!

- Sofiaforastier

My son and I stayed at the Tides Hotel on SoBe last week and I can tick every single box for excellence. Every single person who works for this hotel is professional, patient, and knowledgeable. The food was delicious, the rooms clean, and the location to the beach with free towels/chairs every day is a bonus. Stay at this gem of a hotel.

- Susan T
Newsletter Sign Up
Tides South Beach is an iconic hotel located on Ocean Drive, just steps from the crystal water