Explore What South Beach Has to Offer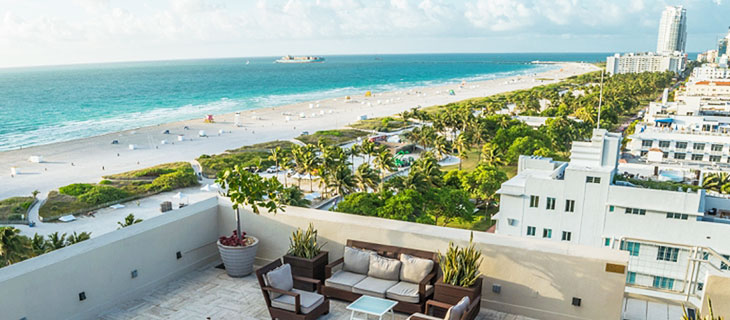 Step just outside our oceanfront hotel and find yourself in the very heart of South Beach. Celebrated for its award-winning restaurants, stellar shopping and high-energy social scene, South Beach delights in ways few destinations can. From eclectic international cuisine to pulsating nightlife that rocks into the wee hours and white sand beaches that stretch for miles, South Beach has earned its rightful place among the world's most exhilarating and dynamic getaways.
Local Attractions
Attractions
Miami-Dade Zoological Park and Gardens
1 Zoo Blvd
Known as Zoo Miami, this is the largest and oldest zoological park in the Sunshine State and the only tropical zoo in the U.S. More than 3,000 animals call this 750-acre zoo home.
Miami Seaquarium
4400 Rickenbacker Causeway, Key Biscayne
Sea lions, sharks and other sea creatures make this a must-see for kids of all ages. In addition to shows, exhibits and animal encounters, the Miami Seaquarium leads the county in marine mammal rescue and rehab.
American Airlines Arena
601 Biscayne Blvd.
Home of the Miami Heat, the American Airlines Arena is one of Miami's premier sports and entertainment complexes. Its Waterfront Theater is the state's largest, accommodating up to 5,800 for concerts, musical theater and stage shows.
Adrienne Arsht Center for the Performing Arts
1300 Biscayne Blvd.
The state's largest performing arts center, the Arsht Center presents more than 400 cultural performances each year in three world-class venues: the 2,400-seat Ziff Ballet Opera House, the 2,200-seat Knight Concert Hall and the 200-seat Carnival Studio Theater.
Cultural
New World Symphony
541 Lincoln Rd., South Beach
The New World Symphony is the training ground for the world's most gifted instrumentalists. Catch them in their infancy at concerts and events at the New World Center.
Holocaust Memorial
1933-1945 Meridian Avenue, Miami Beach
Designed by Kenneth Treister, the Holocaust Memorial of the Greater Miami Jewish Federation was conceived by a committee of Holocaust survivors in 1984 and opened in 1990.
The Wolfsonian
1001 Washington Ave., South Beach
Using objects to illustrate the power of art and design, the Wolfsonian-Florida International University explores what it means to be modern, telling the story of social, political and technological changes that transform our world. Its vast, diverse collections include more than 70,000 items ranging from elegant to eclectic.
Museums
Bass Museum of Art
2100 Collins Ave.
European art anchors this world-class art museum, which also features an outdoor sculpture garden. Call ahead for a free docent-led tour.
Museum of Contemporary Art
770 NE 125 Street, North Miami
Located in the heart of downtown North Miami, the Museum of Contemporary Art features temporary and permanent exhibits in a 23,000-square-foot space.
Perez Art Museum Miami
1103 Biscayne Blvd., Miami Beach
Located in downtown Miami's Museum Park, this contemporary art museum showcases 20th century and contemporary art, including paintings, photographs and sculpture of noteworthy Latin American, Western European and African artists.
Miami Museum of Science & Space Transit Planetarium
3280 S. Miami Ave., Miami
Hands-on educational exhibits, a rehabilitative Wildlife Center & Clinic and Space Transit Plantetarium make the Museum of Science a longtime family favorite.
Jewish Museum of Florida-FIU
301 Washington Avenue, Miami Beach
Located in two restored historic buildings that were once synagogues, the Jewish Museum of Florida-FIU features a core exhibit entitled MOSAIC: Jewish Life in Florida, highlighting 500 photos and artifacts illustrating the Jewish experience in Florida.
HistoryMiami
101 West Flagler Drive
Showcasing the history of southeast Florida, HistoryMiami (previously the Historical Museum of Southern Florida) features exhibits, city tours, research projects and collections designed to inform Miami's future.
Vizcaya Museum and Gardens
3251 S. Miami Ave., Coconut Grove
Set on the edge of Biscayne Bay, 30-acre Vizcaya Museum and Gardens is a stunning European-inspired estate built by industrialist James Deering in the early 20th century. A National Historic Landmark, its 70-room mansion is filled with the finest furnishings, sculpture and paintings.
Parks
Everglades National Park
Parts of Miami-Dade, Monroe and Collier counties
A U.S. National Park charged with protecting the original Everglades, this 1.5-millon-acre park is the largest tropical wilderness in the U.S. It welcomes more than one million visitors each year and is home to 36 threatened or protected species, including the West Indian manatee and Florida panther.
Bill Baggs Cape Florida State Recreation Area
1200 S. Crandon Blvd., Key Biscayne
Located on Key Biscayne's southern tip, the Bill Baggs Cape Florida State Park is an inviting spot for picnicking, biking, fishing and sunning on a pristine one-mile beach. Umbrella and chair rentals are available, as are tours of the Cape Florida Lighthouse.
Crandon Park Beach
6747 Crandon Blvd., Key Biscayne
An urban municipal park set on 808 acres, Crandon Park is home to a marina, golf course, 13,300-seat Tennis Center and the Biscayne Nature Center, as well as a family amusement center and picnic areas. The land was once the largest coconut plantation in the U.S.
Recreation
Jungle Island
1111 Parrot Jungle Trail
Home to the world's rarest animals, Jungle Island is a hands-on zoological park where guests can interact with lemurs, reptiles and orangutans on a behind-the-scenes VIP Safari Tour.
The Biltmore Golf Club
1200 Anastasia Avenue, Coral Gables
Golfers delight in playing The Biltmore's celebrated Donald Ross-designed course. The 6,800-yard, par-71 course offers public tee times and an acclaimed Golf Academy.
Miami Beach Golf Club
2301 Alton Road, Miami Beach
This historic municipal golf course, which opened in 1923, has been beautifully restored and features the Jim McLean Golf Academy.
Miami Beach Botanical Garden
2000 Convention Center Dr., Miami Beach
A 2.6-acre urban green space in the heart of Miami Beach, the Miami Beach Botanical Garden showcases the state's native plants and trees. There's also a Japanese garden, edible garden and multiple water features including a main pond with flowering water lilies and an adjoining wetland with red mangroves.
Richard Petty Driving Experience
1 Speedway Blvd., Homestead
Visitors with a need for speed head to this high-speed racing venue offering opportunities to drive or ride along in an authentic NASCAR vehicle. Buckle up!
Fairchild Tropical Botanic Garden
10901 Old Cutler Rd., Coral Gables
This 83-acre botanical garden in Coral Gables features extensive collections of rare tropical plants to be enjoyed on guided or self-guided walking tours.
Shopping
Lincoln Road
Lincoln Road between Washington Ave. and Alton Rd.
Capturing the essence of South Beach style, this open-air, pedestrian-only mall delights with its vibrant mix of outdoor cafes, restaurants, boutiques and mainstream stores – all against a backdrop of towering palm trees. Don't miss the Farmers Market on Sundays, beginning at 9 am.
Bal Harbour Shops
9700 Collins Ave., Bal Harbour
This upscale, open-air shopping center in Bal Harbour features an array of luxury retailers (including Neiman Marcus and Saks Fifth Avenue) as well as fine restaurants.
Village at Merrick Park
358 San Lorenzo Ave., Coral Gables
Fashionistas gravitate to this Mediterranean-style shopping mecca where upscale stores include Neiman Marcus, Norstrom, Burberry and Gucci.
Miami Design District
From NE 38th to NE 42nd Streets, between N. Miami Ave. and NE 2nd Ave.
Comprising more than 200 galleries and showrooms, the fashionable Miami Design District blends trend and tradition. If you're in the market for high-end furnishings, art or a decorative accessory that's yours alone, this is your go-to destination for inspiration.
Bayside Marketplace
401 Biscayne Blvd.
Wrapping the banks of Biscayne Bay, this breezy waterfront shopping complex is filled with every retailer and restaurant chain imaginable, plus dozens of gift shops and open-air carts. Don't miss spectacular views of the bay and Miami's shimmering skyline.
Wynwood Art District
NW 20th to NW 27th Streets, east of I-95
Home to more than 70 art and antiques galleries, retail stores and bars, the Wynwood Arts District is one of the largest and most prominent creative communities in the country. Don't miss the open-air street art installations.
Great location! The building's grocery store has everything you need and It's a life savior most of the times! Security 24/7, super nice and welcoming staff. All the areas are very clean and the apartments are fully packed with most utensils you could possibly need! Would definitely recommend it!

- Sofiaforastier

My son and I stayed at the Tides Hotel on SoBe last week and I can tick every single box for excellence. Every single person who works for this hotel is professional, patient, and knowledgeable. The food was delicious, the rooms clean, and the location to the beach with free towels/chairs every day is a bonus. Stay at this gem of a hotel.

- Susan T

The Tides is in a perfect location. The rooms are huge, the service is fantastic and the view from the rooms is amazing. Bathrooms and closets are also nice and huge. They offer chairs to seat by the beach. I would definitely recommend it to a friend.

- Leo79t

I just came back from a week in The Tides. It was amazing! The staf was very helpful, the room is beautiful, the view is amazing! We enjoyed the beach service, with complimentary chairs, umbrella and towels. Great place for couples!

- EricaQT

Location wins hands down for this hotel. It is located right on Ocean Drive! The rooms are very good in size. We were impressed with the Ocean views and interconnected rooms. The breakfast in the mornings were superb, with great views outside the main hotel entrance. The hotel did seem quiet during our stay. The hotel staff were very helpful and accommodating! Loved the hotel!

- Bimal20
Newsletter Sign Up
Tides South Beach is an iconic hotel located on Ocean Drive, just steps from the crystal water